FUNDING
To reflect on OUTA's journey and its funding model since inception in early 2012
HOW WE ARE FUNDED
To explain OUTA's journey and its funding since inception in March 2012, we reflect below on the two distinct periods of OUTA's first eight years.
Over the eight year period from inception in March 2012 to February 2020, OUTA's generated an income of R175 million from its donors, which is broken down into two distinct periods that define the organisations strategic intent, work and relevance to its supporter base. The table below shows the marked difference between the two four year periods that make up the eight years of OUTA's existence from March 2012 to February 2020.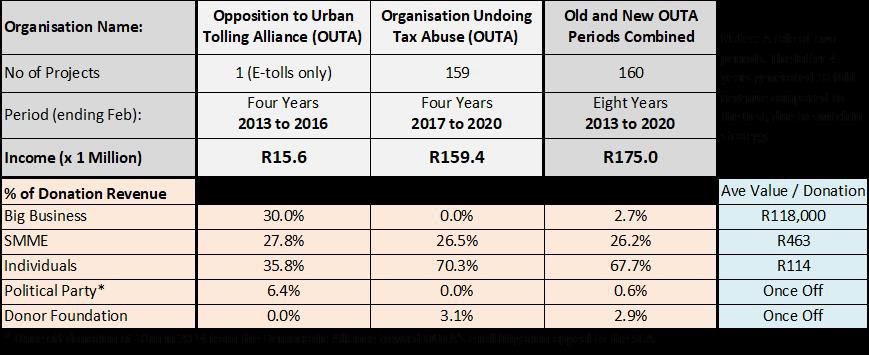 Period 1: Four years from March 2013 to Feb 2016: eTolls Litigation Period.
Opposition to Urban Tolling Alliance (OUTA)
Initially OUTA's work was focused purely on halting or reversing the Gauteng eToll decision, which took place over the first four years between the period of March 2012 and February 2016. This was when the organisation was known as the Opposition to Urban Tolling Alliance (OUTA).
During the first year of intensive litigation (March 2012 to Feb 2013), OUTA was largely funded by big business members of the SA Vehicle Renting and Leasing Association (SAVRALA), and a number of other NGO / Industry Associations (RMI, SATSA, QASA, and SANCU). It was these five entities that gave rise to OUTA's formation and who agreed to drive and fund the litigation cases that unfolded. Of the R5,6m raised in the first year ending February 2013, 80% was funded by big business and 20% from individuals. By December 2012, Government had placed pressure on OUTA's big business funders (the car rental holding companies) to stop backing the civil action organisation, which in turn left the organisation relatively high and dry with a R3 million outstanding legal bill to settle.
Period 2: 3 Years from March 2017 to Feb 2019: Broader mandate - general state corruption.
Organisation Undoing Tax Abuse (OUTA)
The second period began March 2016 until Feb 2020 and reflects the organisation's work under its new name (The Organisation Undoing Tax Abuse – retaining the OUTA acronym), with a broader mandate to tackle Government's wasteful and corrupt expenditure, whilst continuing to challenge the e-toll decision. During this period, big business was not inclinded to support a civil action movement that was challenging Government policy and corruption, requiring that OUTA needed to become more relevant to the ordinary citizen and smaller bsinesses who believed strongly in its work.
This fundamental shift produced a dramatic increase in revenue, driven somewhat by OUTA's decision to support those who were summonsed for non-payment of eTolls along with the need for OUTA to broaden its work into another projects (116 in three years), related to corruption and maladministration in Government.
During this period, OUTA also received a donation of R5 million from the Millenium Trust, which it contributed to the development of an initiative to tackle corruption and lack of service delivery at the Municipal / Local Government level.