OUTA calls on NERSA to block any municipal electricity price increase for 2020/21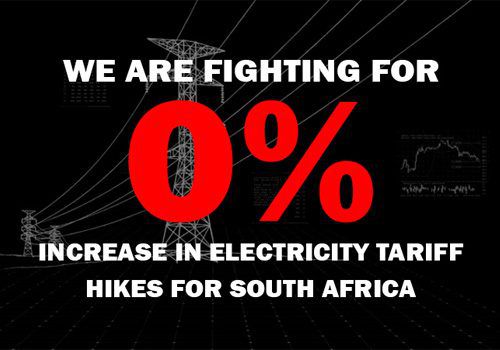 NERSA is considering how much the municipalities will be allowed to increase the price of electricity to their customers on 1 July 2020. The regulator's proposal is for an increase of 6.24%. This is based on the previously approved average increase in Eskom's prices of 8.76% and Eskom's increase in the price of bulk electricity to municipalities of 6.9%.
The municipal increase is calculated on the assumption that 74% of a municipality's electricity costs are buying bulk electricity from Eskom and the rest of the costs, which include salaries, repairs and maintenance, will increase at a lower rate than the bulk electricity increase.
NERSA's deadline for comment from the public on the proposed increase is 9 April.
OUTA is making a submission to NERSA, calling for no increase in municipal prices this year.
OUTA's submission is
here
.
OUTA has set up a petition which the public can sign, supporting this call for no municipal price increase. OUTA calls on all businesses and residents who are feeling the pain of a downgraded economy and Covid-19 pandemic to help freeze the current electricity tariff price by signing this petition and demanding a 0% price increase.
This petition will be submitted with OUTA's comments through the public participation process with NERSA in which the new municipal electricity tariffs will be determined for the year ahead.
We demand a 0% electricity price increase in our municipalities to relieve our financial burden.
Sign OUTA's petition here.